Reduce unproductive downtime by up to 80 % with networked manufacturing!

Klaus Vogt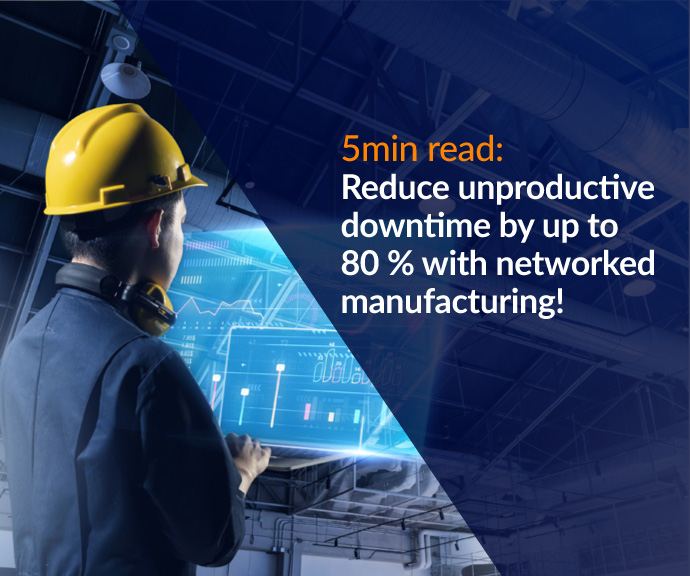 Digitally networked manufacturing plants make almost autonomous production possible. In the context of Industry 4.0 and increasingly comprehensive digitalisation, machines, systems, operators and products communicate with each other in real time. This enables unprecedented flexibility in production - and significantly reduces unproductive, expensive non-productive time.
According to a study by the Federal Ministry of Economics and Climate Protection, 28 % of German SMEs currently have fully networked production, and another 38 % have already partially networked production. The smart factory is also gaining acceptance in conservative industries such as mechanical and plant engineering. But how exactly do digital solutions reduce unproductive downtime? The answer is here in this article.
Non-productive time: The "blind spot" in production
In technical linguistic usage, the term non-productive times covers set-up times and the phases in production in which the machine is working but the tool is not engaged. Both times have one thing in common: they do not serve the direct creation of value and thus do not bring money into the company's coffers. Surprisingly, production companies seldom know how high the shares of set-up and non-productive times are in production. Classical tools for process monitoring provide no or only inaccurate data, especially in the area of non-productive times. Gathering information through observation is also difficult with enclosed, highly automated machines. Yet it is precisely in the optimisation of non-productive times that there is unused potential - which can be exploited through the consistent collection and analysis of machine data.
The basis for optimising non-productive times: digital data records
Money is earned with a machine tool precisely when chips are flying. However, the time during which a tool is engaged accounts for only part of the manufacturing process. The other time is taken up by traversing paths and tool changes. With an analysis of the CNC programmes, it is possible to find out why an axis is moved or a tool is changed - but not how long the processes actually take on the machine. A new interface standard is intended to obtain precisely this data and make it available for subsequent analysis.
Umati, the Universal machine technology interface, is an interface based on OPC UA, which ensures communication between machines and user-specific data exchange with existing IT ecosystems (Link: https://vdw.de/technik-und-normung/umati/). All relevant machine and production data can be recorded, processed and evaluated via the new standard. Through complete networking with CAM and cloud applications, companies gain detailed insights into production processes, the operating states of the machines and, of course, also about current workpieces in the production order. The data sets obtained make previously "invisible" non-productive times visible - and can be optimised immediately. One second saved during tool change, for example through an optimised arrangement in the magazine, makes 1000 seconds saved with a thousand parts - that means 16 minutes of time saved! The same optimisation potential is also evident in the travel paths. Big Data makes it possible to recognise patterns here and to shorten the paths of the tools until the next intervention. Here, too, it may only be a few seconds per programme run, but in total they offer enormous opportunities for increasing efficiency.
Through the smart networking of man and machine, of production and work preparation and a constant flow of data, unproductive downtime can be significantly reduced - in some cases by a substantial 80 %.

We bring manufacturers and buyers together for long-term partnerships. Hundreds of transactions are securely processed through the Orderfox platform every day. Save time and increase efficiency with our technical customer management service.
Book a tour of the Orderfox site here. We will be happy to support you!