Latest technological innovations: Tools

Klaus Vogt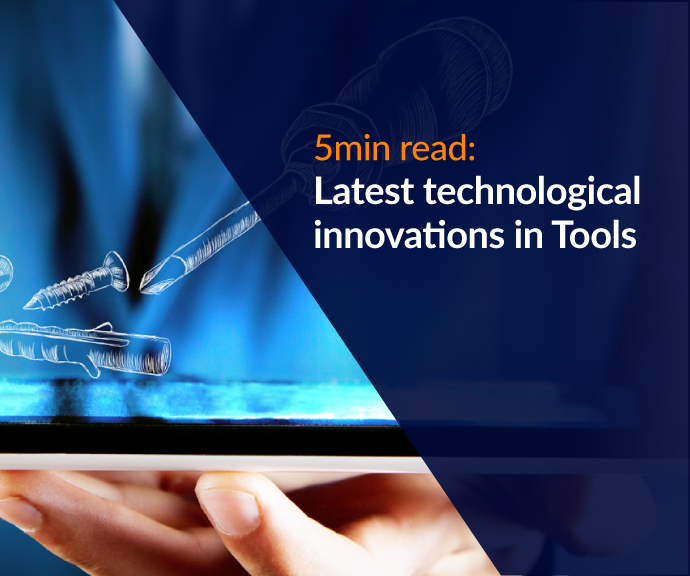 No machining without tools – nothing will change in 2022. However, the current year will usher in a whole range of innovations. Tool and clamping device manufacturers are confronted with new challenges – keyword electro mobility.
Another driver of innovation is the digital revolution in industry. The Internet of Things connects machines among and with each other, provides many terabytes of data per day and company, and ensures that tools are also becoming increasingly smarter. As part of our innovation blog, we scouted around the tool manufacturers and have summarised the most important trends of the year for you.
Trend 1: Digital tools
The machining industry is experiencing a digital revolution. Cloud, edge devices, big data and digital twins: what was still the preserve of the IT sector a few years ago has been increasingly penetrating the metal working sector in recent years. However, digital manufacturing only works if the tools used also become smart. One of the major trends in 2022 will be tools that can record process data or use sensors to automatically adapt machining tasks to the current workpiece. The smart tools are also already prepared for tool management in the cloud. Ideally, this creates a fully autonomous manufacturing process that adapts cutting values to the respective milling process in real time. An impressive step in the direction of the Smart Factory – and for us definitely a trend that we will continue to observe in the coming years!
Trend 2: Adaptation to modern materials
Fibre-reinforced plastics, extremely hard metals or superalloys are indispensable for many areas of application. Lightweight construction, aerospace and of course the automotive industry require a large number of components made of materials that are often exceedingly difficult to machine. Tool manufacturers are responding to the increased demand with innovative designs. The trend in 2022 is clearly towards highly specialised tools: From milling cutters with indexable inserts with positive rake angles, helix geometries and highly robust coatings to tools that combine high-performance carbide with special diamond coatings. In addition to optimised cutting performance, tool manufacturers are also focusing on longer tool life and improved process reliability. The fulfillment of individual needs through an optimally fitting tool: a trend of this year that will continue to dominate the industry well beyond 2022.
Trend 3: A tool for multiple tasks
Batch sizes in machining have been decreasing for years. This in turn means that flexibility and agility in machining are more important than ever before – and that with a simultaneous reduction in throughput times. To meet modern requirements, tools are needed that can perform many operations on different materials. Processing several tasks with one tool means fewer tool changes – and saved space in the tool dispenser. Multifunctional tools are particularly popular in high-wage countries such as Germany, as they enable a significant reduction in unit costs and thus improved competitiveness on the international market. One tool for all tasks: An interesting trend in 2022 that we will certainly find in many companies.
Trend 4: Electro mobility demands the highest precision in clamping devices
In the production of electric vehicles, the focus is on reducing the weight of all components. The demand for ultra-precisely manufactured components, which are also extremely sensitive and thin walled, is correspondingly high. For the production of such sensitive components, sensor-controlled clamping devices are required that enable safe clamping with reduced contact forces. The clamping force may only be so high as not to deform the workpiece, and must be high enough to guarantee secure clamping at all times. Manufacturers of clamping devices are responding to the new requirements with smart, digital technology on the one hand and with simulations of clamping concepts on the other. Electro mobility is a trend in society at large. And a real innovation driver also and especially in the field of tools.
We hope to have given you a first, brief insight into the current trends in "Tools". Do you have any questions about this article or our offer? Or would you like to discuss a specific manufacturing project with our experts? Then get in touch with us right away!