How to overcome supply chain bottlenecks with digital procurement

Klaus Vogt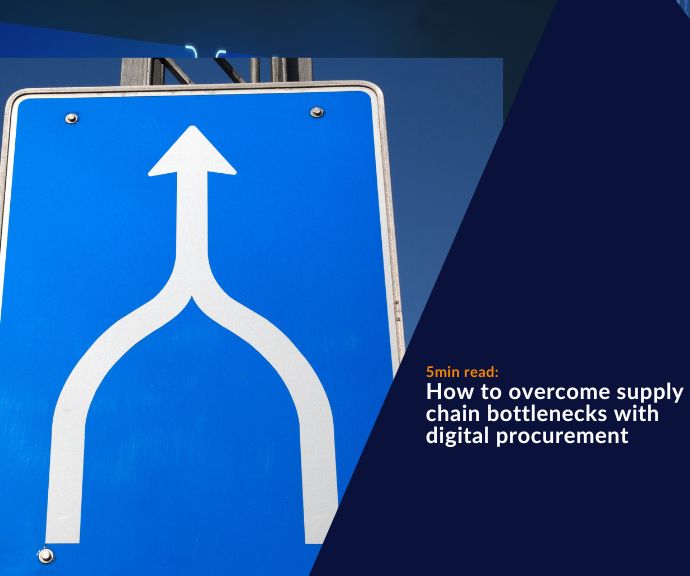 Supply chain disruptions and bottlenecks have become an unpleasant fact of life for many businesses over the last few years. With no foreseeable end to these problems on the horizon, what can businesses do to ensure that their supply chains keep running efficiently? We take a look at some of the causes of supply chain bottlenecks and explore how businesses can implement technology to help navigate these unexpected disruptions
What causes supply chain bottlenecks?
On a global level, supply chains have been taking a battering for some time now and many of these problems aren't going away any time soon. In fact, according to a recent report by Gartner, 68% of supply chain executives say they have continuously been hit by high-impact disruptions over the past three years, with many stating they had no time to recover from one event before the next struck. The outbreak of the Coronavirus in 2020 obviously had far-reaching consequences worldwide - labour shortages, component shortages, and escalating demand, to name but a few. Almost all experts agree that global supply chains will take longer to cope with the backlog, with many predicting a period of at least 18 to 24 months. And unfortunately, that's just the tip of the iceberg; the war in Ukraine, the trade war between the US and China, climate change, and the mountain of red tape due to Brexit all combine to create the perfect storm of supply chain bottlenecks. On a more localised level, a few typical factors that contribute to bottlenecks include poor storage methods, poorly developed operating processes, undefined inventory norms, inefficient manpower, and lack of supply chain transparency.
How to manage supply chain bottlenecks
Supply chain bottlenecks can create waves and have devastating effects on the health of your business. Key to managing these bottlenecks is having real-time, end-to-end visibility along your supply chain. Organisations need to be proactive, rather than acting only when disaster has struck and production has already fallen behind schedule.
Many organisations are also realising that single sourcing (i.e., relying on just one supplier) can increase the risk of bottlenecks. If, for example, your supplier for a particular part or raw materials is in a country in lockdown because of a pandemic, your production may come to a standstill because you no longer have the materials on hand to complete production runs. Obviously, the solution here is to find new suppliers to source from. Some businesses may also need to find alternative factories and distribution centres to improve shipping efficiency. Reshoring and nearshoring are also becoming desirable options for many organisations.
Furthermore, as supply chains face new and unparalleled pressures on any number of fronts, leading companies are looking to emerging technologies to automate tasks, gain intelligence, and become more robust. According to a Gartner survey of 211 supply chain professionals in December 2021, 61% of organisations see supply chain technology as a source of competitive advantage in the industry, while 34% of respondents said that adapting to new technology is the most important strategic change that supply chain organisations will face five years from now.
Using technology to overcome supply chain bottlenecks
As Dwight Klappich, Vice President Analyst with Gartner Supply Chain puts it, supply chain leaders "must take multidisciplined approaches to identifying innovative technologies and orchestrate the right technology investments at the right place and the right time." To reinforce the point, a November 2021 study by business process and IT services firm NelsonHall for Capgemini, based on interviews with 50 supply chain leaders in major enterprises across North America, the United Kingdom, and Europe, found that 98% of respondents said that supply chain automation was highly important.
Here we look at eight ways leading organisations are automating their supply chains and keeping their operations running smoothly, even in times of crisis.
Hyperautomation 2.0, which coordinates technologies like AI and machine learning to identify and automate supply chain processes such as warehousing, transportation and production.
Next-generation robots, which are increasingly being used for a multitude of supply chain tasks to complement or support human activities.
Autonomous things, which include devices such as drones and autonomous vehicles that carry out intensive manual tasks like warehousing and transportation.
Digital supply chain twins, which create a digital representation of a supply chain that can be used to model different scenarios and facilitate decision making.
Analytics anywhere, which enables business intelligence reporting, data visualisation, and advanced analytics across the supply chain.
Security mesh, which is a structured framework of governance rules and applications aimed at securing systems, tools, and people in ever more interconnected and automated supply chains.
Ecosystem collaboration, or digital applications that create environments in which all stakeholders can share information and collaborate on processes.
Sustainability applications and services that underscore initiatives for sustainability, environmental, and circular economy goals and obligations.
While the causes of supply chain bottlenecks are often out of an organisation's control, it's possible to mitigate their impact by implementing technology, in both the short and long term, to increase visibility and make your supply chain more efficient and more resilient. Matt Comte, Operations Transformation Practice Leader at PwC, concludes: "We're in an unprecedented time of supply chain and manufacturing. The headwinds will continue, and the organisations that come out better are ones that can meet their current demands from customers while putting a firm foot into the capabilities they need in the future."
We bring manufacturers and buyers together for long-term partnerships. Hundreds of transactions are securely processed through the Orderfox platform every day. Save time and increase efficiency with our technical customer management service.
Book a tour of the Orderfox site here. We will be happy to support you!