How to Increase the Resilience of Supply Chains

Klaus Vogt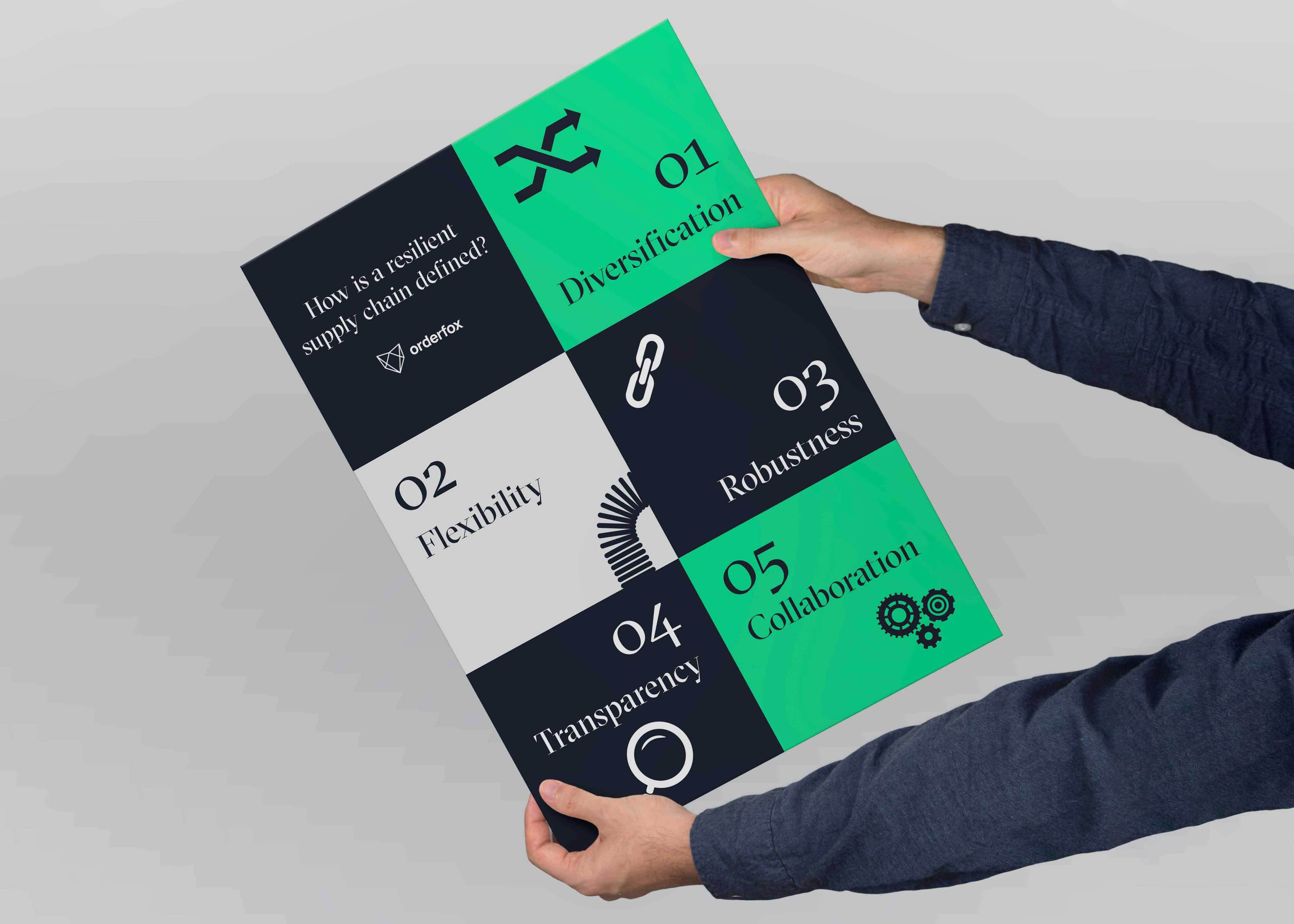 COVID-19, war in Ukraine, inflation: In 2022, supply chains around the world were under huge pressure. Operational risks and disruptions threatened several areas of a supply chain and had a very direct, far-reaching and global impact: on logistics, suppliers and the workforce. Additional pressure on supply chains stems from everyday challenges -– unexpected competition, sudden changes in market trends or rapid shifts in consumer buying behaviour. So it is more important than ever that supply chains are designed to withstand the challenges of today – and tomorrow.
However, apart from that, supply chains should and must be able to predict risks and opportunities of the future, anticipate them and react almost in real time. The keyword of the day is resilience. Or, to quote PricewaterhouseCoopers: "It's not just about playing defence — it's also about playing offence — finding competitive advantage by shaping a strategy for supply chain resilience focused on disruption avoidance." In this article, you will learn how to increase the resilience of supply chains, what threats endanger supply chains today, and what tools companies can use to identify and eliminate risks.
How is a resilient supply chain defined?
A resilient supply chain is one that is able to adapt to changes and challenges and still maintain or even improve business operations. This capacity for adaptation and resistance is often referred to as "resilience".
A resilient supply chain is most notably characterised by:
Diversification: A diversified supply chain has multiple suppliers and manufacturers offering different products and services. This reduces the risk of a single supplier or manufacturer affecting the business.
Flexibility: A flexible supply chain is able to respond quickly to changes in demand or supply. It can produce, transport and distribute products and services quickly and effectively.
Robustness: A robust supply chain is able to cope with unexpected events and challenges without affecting business operations. It has redundant capacity and resources to minimise disruption.
Transparency: A transparent supply chain is characterised by good visibility and traceability of materials, products and services from start to finish. This makes it possible to quickly identify and resolve problems.
Collaboration: A collaborative supply chain has close relationships with suppliers and customers and collaborates to address challenges and seize opportunities.
What are the most common and dangerous supply chain disruptions today?
There are many factors that can lead to disruptions in the supply chain, including natural disasters, political unrest, labour strikes, transport problems and pandemics. Some of the most common and dangerous supply chain disruptions are:
Natural Disasters: Storms, floods, earthquakes and other natural disasters

Political unrest: wars, unrest and political instability

Labour strikes: labour strikes and labour conflicts

Transport problems: traffic jams, accidents and strikes

Pandemics: Pandemics such as COVID-19 wield a major impact on the supply chain by affecting the production and transportation of materials and products and by changing the demand for certain products and services.
How can companies build more resilient supply chains?
Resilient supply chains are characterised by the sum of several measures, which in combination significantly increase resilience. One of the most important measures is diversification. A supply chain consisting of several suppliers and manufacturers facilitates compensation of failures. Another indispensable module is flexibility. Companies should be prepared to react quickly to changes in supply and demand. With optimised, agile and scalable production and supply processes, it is possible to response efficiently to all changes along the supply chain, even in challenging times. If market conditions change or unexpected, unpredictable events occur, it is important to reduce disruptions in business operations and to maintain day-to-day operations. Redundant capacities and resources are recommended here – the prepared "Plan B" for the worst-case scenario. A digitised supply chain affords companies good visibility and traceability of materials, products and services – and all the necessary information and data to quickly identify and subsequently resolve problems. Last but not least, a resilient supply chain is characterised by close relationships with suppliers and customers. With mutual support, challenges can easily be better managed. Overall, building a more resilient supply chain requires systematic planning and implementation of measures to mitigate risk and improve resilience.
What would an optimal supply chain management with higher resilience look like?
The basis for an optimal supply chain management with higher resilience is a comprehensive and continuous risk assessment of the entire supply chain. This is the only way to identify potential vulnerabilities and define catalogues of measures that allow timely intervention in the event of interruptions or failures. Transparency, flexibility, agility and diversification: many small and exceedingly small parameters flow into supply chain management. To ensure that the overview is not lost, central, digital platforms – on-premise or remote in the cloud – are an excellent approach. The centralisation of the data with subsequent visualisation turns the individual data islands, which are necessarily incurred in the management of supply chains, into usable bases for business decisions.
How does a company find out the risk incurred in the depth of its supply chain, at the third, fourth or fifth level?
To identify the risk incurred in the depth of the supply chain, there are some steps that companies can take:
Collect information: Companies should be fully informed about their supply chains by collecting data from suppliers and other relevant sources. This may include a review of financial reports, customer feedback, and other information that provides insight into suppliers' performance and risk potential.
Conduct a risk analysis: Companies should conduct a risk analysis to identify and assess potential risks in the supply chain. This can include a SWOT analysis (Strengths, Weaknesses, Opportunities and Threats) or a risk matrix to evaluate the risk potential of suppliers.
Conduct a supplier rating: Companies should assess suppliers on a regular basis to evaluate the risk potential of suppliers and take measures to mitigate the risk. This may include reviewing financial reports, customer feedback and other relevant information.
Consider alternatives: Companies should always consider alternatives to mitigate the risk posed by individual suppliers. This can mean that companies find new suppliers or build redundant capacity to minimise disruptions.
What are the best risk identification methods or tools in supply chains?
The most important and efficient methods for identifying risks in supply chains include SWOT analysis on the one hand and the risk matrix on the other. While the SWOT analysis identifies potential risks in the supply chain and can predict failures by assessing internal and external factors, the risk matrix serves as a tool to assess the extent and likelihood of supplier risks. The better the risk potential is recognised, the more precisely can response catalogues be specified and dangerous breakdowns in procurement be prevented.
Please also watch our expert video with Helena Jochberger from CGI on Resilience here: