Buyer Benefits: Time Savings through digital Procurement

Klaus Vogt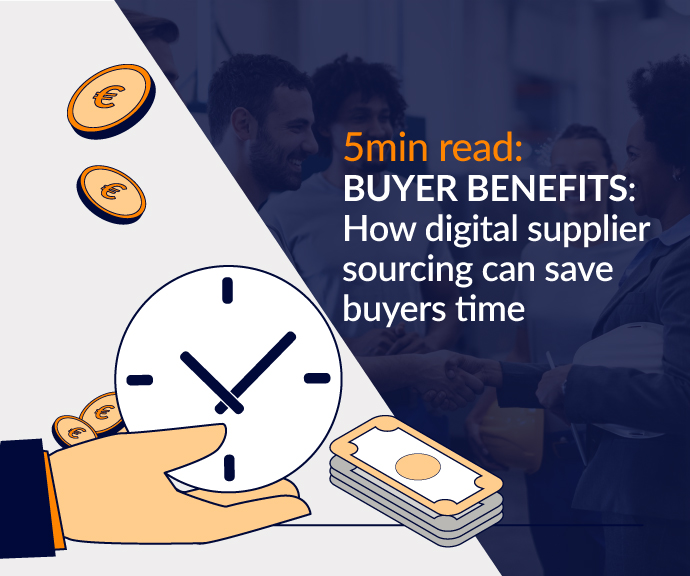 Procurement is an exceptionally complex process, involving a lot of paperwork, discussions, and analyses of bids - to name but a few tasks. As a result, it is an extremely time-consuming practice that can result in possible mistakes being made along the way.
Fortunately, using technology has the potential to simplify the procurement function greatly and lead to increased efficiency, as well as time and cost savings for businesses. Here, iwe take a look at how digital procurement can save you time.
Background
Up until quite recently, procurement was a manual process that was often time intensive and prone to error. Relying on the "pen and paper approach" made keeping track of spending, handling contracts, and overseeing supplier performance complicated. Even today, many companies continue to use slow, ineffective tools like paper, emails, and spreadsheets to manage their buying. This can cause significant problems, including carrying too much or too little inventory, missed cost-saving opportunities, and aggravating inefficiencies.
What is digital procurement?
Digital procurement, also known as e-procurement or electronic procurement, is a method of procuring goods and services electronically. The main aim of digital procurement is to streamline the purchasing process and make it faster and more efficient. This is done by automating manual tasks, cutting errors and duplication, and enhancing transparency throughout the entire process. According to Jonathan Pastrikos, Senior Business Advisor at BDC, "If you're not managing the procurement system properly, there's no visibility for the other people in the company who need the information."
How is digital procurement changing the face of business supply chains?
Digital procurement or e-procurement is revolutionising B2B transactions by automating the purchasing function and helping to provide better, more accurate results to both companies and suppliers. Businesses today are constantly evaluating their processes to identify pain points that could be improved and looking for opportunities that have the potential to both save time and boost their profit margins.
4 ways digital supplier scouting can save you time:
There are a number of ways in which switching from traditional procurement methods to digital supplier scouting can save time.
Instead of laboriously spending time on tasks like requesting supplier portfolios, digital procurement systems can provide you with that information any time it is needed, at the touch of a button.
Working smarter - not harder - is one of the main benefits of digitalisation. When it comes to e-procurement, this means that orders are transmitted faster and more accurately.
Integrated systems and user-friendly interfaces facilitate communication between buyers and suppliers, guaranteeing, for example, that orders are processed in a timely manner, or that the supplier has an urgently needed item in their inventory.
A digital procurement system automates many of the tasks related to procurement such as request for quotation (RFQ) management and contract administration, as well as requisition approvals, purchase order creation, and invoice processing.
All of these benefits free up your employees' time so that they can focus on more strategic activities, such as supplier relationship management or category management. However, in order to succeed, it is critical to remember that automation will not replace the people on your team. Companies need to prepare and train their staff to get the most out of digitalisation and data insights so that they can work more efficiently towards their business objectives. As Pastrikos says, "That's the secret with any system. If you don't provide it with the right information, it's not going to know."
How Orderfox can save you time
Searching for suitable, quality manufacturers with competitive pricing is labour intensive. Our team takes the time and effort out of sourcing and procurement, offering a wide-ranging choice of manufacturers for quality and high-volume production. We work on sourcing the right suppliers for your business – in Europe and worldwide - securing the best price for your request.
The time is now
For organisations looking to embrace digital solutions, the path has never been easier. Most emerging technologies, such as the Orderfox platform, work to enhance the value of legacy systems, involve minimal investment, are easy to integrate, and have payback periods measured in months not years. So, even if the road to digital procurement may initially look like more work, it is guaranteed to pay off in terms of time and effort.
We bring manufacturers and buyers together for long-term partnerships. Hundreds of transactions are securely processed through the Orderfox platform every day. Save time and increase efficiency with our technical customer management service.
Contact us, we will be happy to support you!